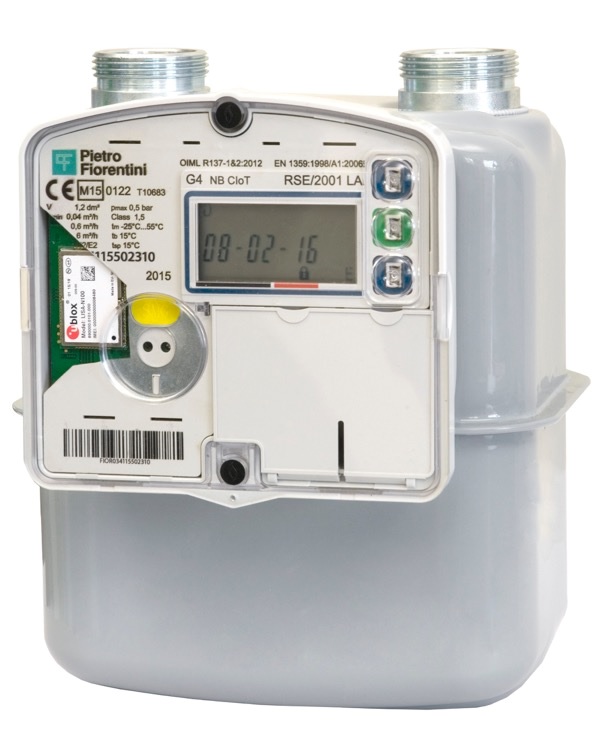 Thalwil, Switzerland and Arcugnano, Italy – February 27, 2017–
u-blox (SIX:UBXN), a global leader in wireless and positioning modules and chips, Pietro Fiorentini S.p.a., a leading company producing components, systems and services for the regulation and metering of natural gas, and Terranova, Software the Italian market leader for Meter Data Management SW and part of Pietro Fiorentini Group, today announced the successful results of their Narrowband IoT (NB-IoT) field trials.
 
The trials were run on a full working NB-IoT cycle inside a gas meter, with focus on the results achieved in the field, in areas where reachability and battery consumption, as well as product robustness and reliability are crucial. The trials involved two Spanish major gas distribution companies and a significant number of Pietro Fiorentini gas meters. NB-IoT technology fully supports a set of advanced functions: bi-directional communication, data encryption at 128 bit and remote commands for meter shut down. All these features are additional to the conventional remote meter reading and gas consumption profiling. The trial covered the whole chain: gas meter – NB-IoT network – communication protocols and finally data acquisition system and meter data management on software provided by Terranova making the data available to any ERP system. The results demonstrated complete end–to–end system functionality, bi-directional communication, and perfect scalability from 2G to NB-IoT.
 
These trials reflect the companies' eagerness to meet growing demand for Low Power Wide Area (LPWA) connectivity, as delivered by NB-IoT technology, which was standardized by 3GPP in June 2016. As NB-IoT operates on networks within the licensed spectrum, it also offers greater security and freedom from interference and is therefore ideal for critical infrastructure devices, such as utility meters. Additionally, NB-IoT is extremely power efficient and provides coverage in shielded areas, making it ideal for the long lifecycles and underground locations of many meters. Embedded in the gas meter is the u-blox SARA‑N2 module, which was announced in June 2016 as the world's first cellular radio module compliant with 3GPP Release 13.
 
"We needed a high quality and reliable smart technology for conducting NB-IoT trials in a gas meter anticipating the communication needs of the modern gas industry. SARA‑N2, the NB-IoT module from u-blox was therefore the right choice. We were satisfied to see the success of the complete end to end solution with bi-directional data communication fully integrated in the Terranova Meter Data Management platform. We are grateful to the Spanish gas distribution companies and to the international telephone operator that made all this possible," explains Gianfranco DeFeo, Executive Director of Shanghai Fiorentini and Marketing Principal at Pietro Fiorentini.
 
"It was very exciting to collaborate with market leaders such as Pietro Fiorentini and Terranova in conducting trials that would eventually guarantee secure high quality wireless communication in smart gas metering applications," explains Stefano Moioli, Director Product Management Cellular at u-blox.
The results achieved are preparatory for further roll-out in the field.
 
About u-blox
Swiss u-blox (SIX:UBXN) is a global leader in wireless and positioning modules and chips for the automotive, industrial and consumer markets. u-blox solutions enable people, vehicles and machines to locate their exact position and communicate wirelessly over cellular and short range networks. With a broad portfolio of chips, modules and software solutions, u-blox is uniquely positioned to empower OEMs to develop innovative solutions for the Internet of Things, quickly and cost-effectively. With headquarters in Thalwil, Switzerland, u-blox is globally present with offices in Europe, Asia, and the USA.
(www.u-blox.com)
 
Find us on Facebook, LinkedIn, Twitter @ublox and YouTube
 
u-blox contact
Natacha Seitz, Senior Professional PR, u-blox
Business: +41 (0) 44 722 7388
E-mail: natacha.seitz@u-blox.com
 
About Pietro Fiorentini S.p.a.
With 70 years of experience, Pietro Fiorentini S.p.a. is a leading company operating on an International level in designing, manufacturing and selling components, systems and services for the regulation and metering of natural and liquid gas. Its goal is to enable and increase a safe gas usage by distributors and consumers, with continuous improvement. Pietro Fiorentini leads the way in the implementation of latest technologies for Natural gas and Energy infrastructures (www.fiorentini.com)
 
Pietro Fiorentini S.p.a.contact:
Luigi Vigone – Product manager Metering systems
Phone: +39 02 696142.1
E-mail: luigi.vigone@fiorentini.com
 
About Terranova
With more than 160 customers, Terranova is a leading provider of advanced software solutions specifically designed to help Utilities to achieve efficiency and operational excellence in full compliance with regulatory requirements and which can be customized to fit individual customer requirements.
Terranova is involved in important Smart Metering projects that engage, all around the world, millions of gas, electricity and water smart meters managed with its flexible, modular and multiservice software platform, thanks to the most innovative technologies available on the market.
 
Terranova contact:
Marco Ciabatti, Sales Consultant, Terranova
Phone: +39 055 53 86 721