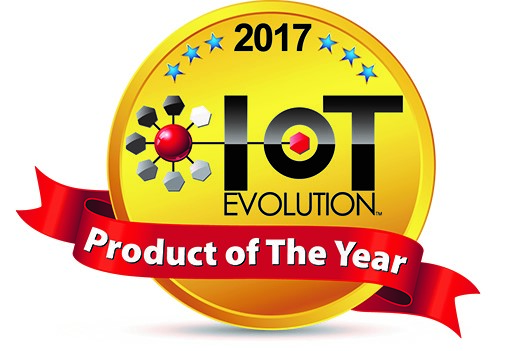 Thalwil, Switzerland – 26 July, 2017 – u‑blox (SIX:UBXN), a global leader in wireless and positioning modules and chips, announced today that its LARA‑R3121 has received a 2017 IoT Evolution Product of the Year Award from IoT Evolution magazine and IoT Evolution World, the leading magazine and Web site covering IoT technologies.
The u‑blox LARA‑R3121 module comprises a single mode LTE Category 1 modem and a GNSS (Global Navigation Satellite System) positioning engine specifically designed for IoT and M2M devices. LTE modem, GNSS and module technology were all developed in‑house at u‑blox. The versatile LARA‑R3121 is ideal for IoT applications including smart utility metering, connected health and patient monitoring, smart buildings, security and video surveillance, smart payment and POS systems, as well as wearable devices, such as action cameras. 
"We are delighted to receive this award that highlights u‑blox's commitment to develop innovative solutions for the IoT market," explained Andreas Thiel, u‑blox Co‑Founder and Executive VP, Cellular Products & IC Design. "LARA-R3121 is the only cellular module comprising a LTE Cat 1 modem and a GNSS engine, with complete module hardware and software all developed by a single supplier. With our focus on the IoT market, we bring an 'IoT first' approach to silicon design." 
"The solutions selected for the IoT Evolution Product of Year Award reflect the diverse range of innovation driving the machine to machine market today. It is my honor to congratulate u-blox for their innovative work and superior contribution to the rapidly evolving IoT industry," said Carl Ford, CEO of Crossfire Media, a co‑publisher of IoT Evolution.
"It is my pleasure to recognize LARA‑R3121, an innovative solution that earned u‑blox the 2017 IoT Evolution Product of the Year Award," said Rich Tehrani, CEO, TMC. "I look forward to seeing more innovation from u‑blox in the future."
The winners of the 2017 IoT Evolution Product of the Year Award will be published in the next issue of IoT Evolution magazine.
About u-blox
Swiss u

‑

blox (SIX:UBXN) is a global leader in wireless and positioning modules and chips for the automotive, industrial and consumer markets. u

‑

blox solutions enable people, vehicles and machines to locate their exact position and communicate wirelessly over cellular and short range networks. With a broad portfolio of chips, modules and software solutions, u-blox is uniquely positioned to empower OEMs to develop innovative solutions for the Internet of Things, quickly and cost-effectively. With headquarters in Thalwil, Switzerland, u-blox is globally present with offices in Europe, Asia, and the USA.
Find us on Facebook, LinkedIn, Twitter @ublox and YouTube
u-blox contact
Natacha Seitz, Senior PR Professional, u-blox
Phone: +41 44 722 73 88
E-mail: natacha.seitz@u-blox.com  
About Crossfire Media
Crossfire Media is an integrated marketing company with a core focus on future trends in technology. We service communities of interest with conferences, tradeshows, webinars and newsletters. Crossfire Media has a partnership with Technology Marketing Corporation (TMC) to produce events and websites related to disruptive technologies. Crossfire Media is a division of Crossfire Consulting, a full service Information Technology company based in New York.
About TMC
TMC is a global, integrated media company that supports clients' goals by building communities in print, online, and face to face. TMC publishes multiple magazines including Cloud Computing, IoT Evolution, Customer, and Internet Telephony. TMCnet is the leading source of news and articles for the communications and technology industries. TMC produces a variety of trade events, including ITEXPO, the world's leading business technology event, as well as industry events: Asterisk World; AstriCon; ChannelVision (CVx) Expo; DevCon5 - HTML5 & Mobile App Developer Conference; IoT Evolution Conference & Expo; Real Time on the Web Conference and more. Visit TMC Events for additional information.
For more information about TMC, visit www.tmcnet.com.
TMC Contact
Stephanie Thompson
Manager
203-852-6800, ext. 139
sthompson@tmcnet.com