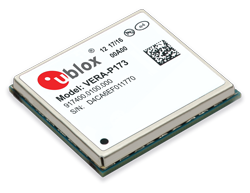 Thalwil, Switzerland – June 1, 2017 – u‑blox (SIX:UBXN), a global leader in wireless and positioning modules and chips, today announced the VERA‑P1 series, the latest in its range of V2X modules designed to accelerate the development of safer and more automated vehicles. The goal of developing safe and reliable self‑driving cars can only be realized through technology. The automotive industry, governments and standards bodies all agree it will require vehicles to be in constant contact with other vehicles and their surroundings, known respectively as Vehicle‑To‑Vehicle (V2V) and Vehicle‑to‑Infrastructure (V2I), but collectively as Vehicle‑to‑Everything (V2X).
The VERA‑P1 module is the latest in a range of automotive-grade transceiver modules from u‑blox that complies with the IEEE 802.11p standard, enabling the next generation of Advanced Driver Assistance Systems (ADAS) which will deliver the autonomous driving experience.
Following years of interoperability tests and field trials around the world, V2X technology is now ready for the mass market and will be available in cars from leading automotive manufacturers as early as this year. By mandate, every new vehicle sold in the US will have V2V technology integrated by 2023, with widespread implementation expected in 2021. This mandate is a significant step towards realizing the autonomous paradigm and confirms V2X as a core technology for self‑driving vehicles.
"The introduction of the VERA‑P1 module reinforces our commitment to this exciting and emerging market," said Costas Meimetis, Director Product Strategy Short Range Radio at u‑blox. "It represents a new generation in V2X transceiver modules for u‑blox and its customers. Based on the same class‑leading RF sub‑system used in our THEO V2X module, VERA offers the same high performance in a smaller and a more cost‑effective package."
Able to communicate over a range of up to 1km (line of sight), VERA‑P1 has been designed to be fully compliant with WAVE (Wireless Access in Vehicular Environments), DRSC (Dedicated Short Range Communications) and ETSI ITS G5, for US and European markets. Full pin-compatibility between product variants it offers increased customer choice and system flexibility, as well as both USB and SPI host processor interfaces. VERA‑P1 comes in four variants based on the antenna configuration, simplifying installation for first‑mount and after‑market customers, as well as infrastructure (roadside) deployment.
Designed to deliver increased radio performance, the u‑blox VERA‑P1 module minimizes or removes the need for additional components often needed to compensate for attenuation, lowering the overall system cost and risk.
The u-blox VERA‑P1 series will be featured at the TU-Automotive Detroit Conference and Expo, 7‑8 June 2017, booth B77.
About u-blox
Swiss u‑blox (SIX:UBXN) is a global leader in wireless and positioning modules and chips for the automotive, industrial and consumer markets. u‑blox solutions enable people, vehicles and machines to locate their exact position and communicate wirelessly over cellular and short range networks. With a broad portfolio of chips, modules and software solutions, u‑blox is uniquely positioned to empower OEMs to develop innovative solutions for the Internet of Things, quickly and cost-effectively. With headquarters in Thalwil, Switzerland, u‑blox is globally present with offices in Europe, Asia, and the USA.
Find us on Facebook, LinkedIn, Twitter @ublox and YouTube
u-blox contact:
Costas Meimetis, Director Product Strategy Short Range Radio, u‑blox
Phone: + 30 2155004276
E-mail: costas.meimetis@u-blox.com