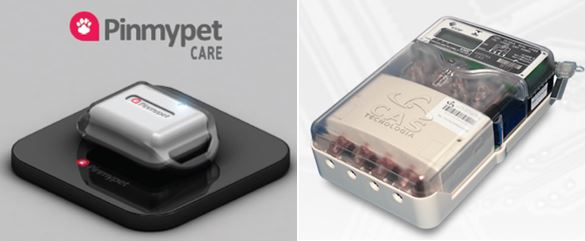 Thalwil, Switzerland – July 14, 2017 – u‑blox (SIX:UBXN), a global leader in wireless and positioning modules and chips, today announced that it is partnering with key players of the IoT ecosystem, Huawei, Vivo, CAS Tecnologia and PinMyPet running lab and field tests inside new Narrowband IoT (NB-IoT or Cat NB1) networks in Brazil. The first tests are ongoing since Q1 2017 and initially focused on metering and tracking applications.
These trials reflect u‑blox's focus to meet pent-up demand for low power wide area (LPWA) connectivity, as delivered by NB1 technology, standardized by 3GPP in June 2016.The benefits of NB1 over other cellular radio technologies include lower device complexity, ultra‑low power operation, and support for more than 50,000 devices per single cellular cell. As it uses a licensed spectrum-based network, it also offers greater security and high robustness from interference. NB1 is therefore ideal for IoT and M2M applications requiring extremely low power consumption and better coverage even in shielded areas.
"We are excited to partner with u‑blox to help our mutual customers migrate to the new, low‑power and low‑cost Narrowband IoT technology that also offers excellent coverage," says the Vivo IoT Senior Manager, Eduardo Takeshi.
"We chose u-blox because of the quality of its products and excellent technical support," said Marcos Buson, Director, PinMyPet. "The SARA‑N2 NB1 module delivers the reliable, low power, and optimized LTE cellular connectivity necessary to our pet tracking device."
"The low power consumption of u‑blox SARA‑N2 and improved coverage of NB-IoT networks in Brazil will bring important benefits to our solutions," said Welson Regis Jacometti, CEO at CAS Tecnologia, a technology leader in smart metering in Latin America.
Keeping 2G network is not efficient use for the increasing number of IoT devices. NB-IoT is the natural evolutionary step for wireless operators, hardware manufacturers, and end customers," says Ricardo Adulis at SmartCore, the representative of u-blox in Brazil. Embedded in the test device is the u-blox SARA‑N2 NB‑IoT module, the world's first cellular NB-IoT module compliant to the 3GPP Release 13, Narrowband IoT (LTE Cat NB1) standard. Designed for use in applications such as smart buildings and cities, utilities metering, white goods, asset tracking, and agricultural and environmental monitoring, the module will operate for 10+years from a single‑cell primary battery. Its 16 mm x 26 mm LGA form factor, using u‑blox nested architecture, facilitates simple upgrades from u‑blox GSM, HSPA or CDMA modules and ensures future‑proof, seamless mechanical scalability across technologies.
"Allowing for easy migration across 2G, 3G and 4G, cellular modules from u‑blox support a comprehensive set of communication protocols with minimal signalling overhead to conserve power," added Suresh Ram, President u-blox America. "We are working with our partners and customers to introduce products with our modules where longevity of operation and reachability in poor propagation conditions are mission critical."
 
About u-blox
Swiss u‑blox (SIX:UBXN) is a global leader in wireless and positioning modules and chips for the automotive, industrial and consumer markets. u‑blox solutions enable people, vehicles and machines to locate their exact position and communicate wirelessly over cellular and short range networks. With a broad portfolio of chips, modules and software solutions, u-blox is uniquely positioned to empower OEMs to develop innovative solutions for the Internet of Things, quickly and cost-effectively. With headquarters in Thalwil, Switzerland, u-blox is globally present with offices in Europe, Asia, and the USA.
Find us on Facebook, LinkedIn, Twitter @ublox and YouTube
u-blox contact
Suresh Ram, President, u-blox America
Business: +1 703 429 3262
E-mail: suresh.ram@u-blox.com